Appeal over chickens dumped in burn in Highlands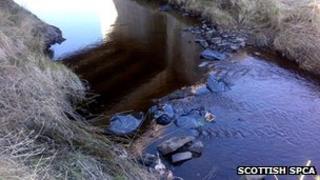 The Scottish SPCA has appealed for information after more than 50 chickens were found dumped in a burn in the Highlands.
The alarm was raised at Reisgill burn near Lybster, Caithness, on Monday afternoon.
Some of the birds were floating in the water and others were in black bin bags.
It is not known whether the birds were dead or alive when they were dumped as they were too far decomposed.
The burn runs under the A99 to the south of Lybster.