Women jailed over killing of Amanda Leiper in Aberdeen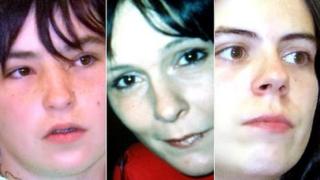 Two women have been jailed after a mother-of-five was battered to death in Aberdeen.
Alix Wilson, 21, admitted culpable homicide by kicking Amanda Leiper on the head and body. Co-accused Anne-Marie Mullen, 24, admitted slapping and kicking the 38-year-old.
They went on trial charged with murder but admitted the reduced charges.
At the High Court in Aberdeen, Wilson was jailed for seven years and nine months and Mullen for 13 months.
The fatal attack happened in July last year.
'Cowardly act'
Judge Lord Matthews said a kick when the victim was lying motionless was a "particularly vicious and cowardly act".
He said: "Unfortunately, as experience and this case have shown, the foot can be every bit as effective a weapon as any other."
Wilson was also given an extension period of two years.
A number of conditions can be attached before being released on licence, and if any other offences are committed, being on licence would be taken into account.