River rescue lamb in legal wrangle in Aberdeenshire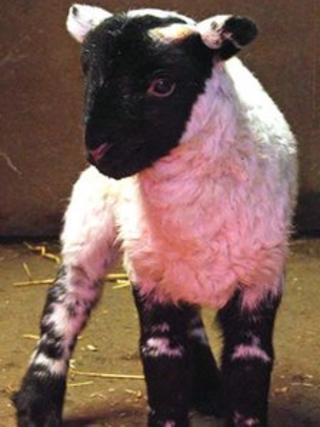 A newborn lamb which was saved from drowning after being rescued from an Aberdeenshire river is at the centre of a legal wrangle.
Willows Animal Sanctuary, near New Pitsligo, has looked after the lamb - which has been named River - since it was handed in earlier this month.
However, a farmer has now told the sanctuary that he owns the "pedigree" lamb - and he wants it back.
Willows said proof of ownership was needed and lawyers were now involved.
Kate Robinson, of Willows, told the BBC Scotland news website: "We are appealing to the farmer's better nature. Everyone here is so attached to River now.
"A schoolgirl pulled the lamb from the river and looked after it as it was so weak.
"We were then contacted and agreed to take him in good faith.
"We were later contacted by a farmer saying it was his lamb and he wanted it back.
"It is now a legal process."
Ms Robinson added that the vulnerable people who used the organisation's animal assisted therapy programme were "deeply distressed" about the prospect of losing the lamb.
'Something special'
Farmer John McIrvine, of Strachan, said he wanted the lamb back due to its breeding potential, and was willing to make a donation.
He said the lamb's mother had also been left distressed.
Mr McIrvine told BBC Scotland: "He's an incredible tup lamb and he's got so much breeding potential for me as a ram that his value could be quite high.
"If he was only worth £50 I would donate him to Willows Animal Sanctuary but in this particular lamb there's something special.
"I've offered to give them another lamb or pay for him to get him back but no, they will not play ball.
"They're keeping the lamb and that's it - they've put it in the hands of their solicitors."