Aberdeenshire retakes title of 'best life quality' in Bank of Scotland survey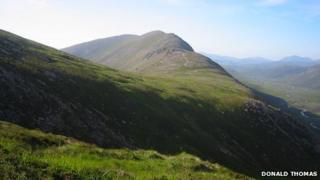 Aberdeenshire has topped the table for the best quality of life in rural Scotland for the fourth time.
The area overtook last year's winner Shetland to retake the top spot in the annual Bank of Scotland survey.
People in the area are thought to have the highest weekly average earnings, and 93% said they were in good or fairly good health, it said.
The survey also looked at other factors, including life expectancy, education, employment and crime rates.
It found that the local employment rate in Aberdeenshire was 79% with weekly average earnings of £661, and the level of school qualifications was above the national average.
Orkney scored third place in the survey.
Nitesh Patel, an economist at the Bank of Scotland, said: "Aberdeenshire has performed consistently strongly across a wide range of indicators for a number of years, and the latest survey found residents here now have the best quality of life in rural Scotland.
"The average resident has a high income compared to other rural areas and benefits from bigger homes with central heating.
"On top of this, health and life expectancy are above average, crime is low and there are extremely low traffic volumes."
Chief executive of Aberdeenshire Council, Colin Mackenzie, said: "This is fantastic news for Aberdeenshire and I'm extremely pleased to see that the area has regained the overall top spot in this poll.
"It is the fourth time in seven years that Aberdeenshire has been voted as having the best rural quality of life in Scotland and just reinforces how consistently well the area continues to perform across all indicators."
The bank looked at 12 rural local authority areas for the survey.