Trump Organisation wind farm advert 'misleading'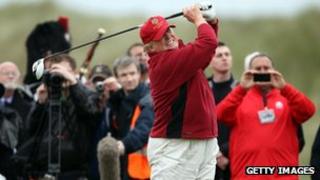 An anti wind farm advert sanctioned by the Trump Organisation was misleading, the Advertising Standards Authority (ASA) has said.
US businessman Donald Trump, who has a golf development in Aberdeenshire, opposes wind farms.
The adverts, published last December, claimed tourism would suffer with turbines being put up.
The ASA said the claim regarding tourism needed to be substantiated with robust evidence.
The adverts showed a bank of wind turbines in California, accompanied by the strapline "Tourism will suffer and the beauty of your country is in jeopardy".
The ASA also said it was misleading to imply the image of the wind turbines overlooking an American freeway was representative of a proposed wind farm in Scotland.
The advert also featured a picture of First Minister Alex Salmond linking him to the release of the convicted Lockerbie bomber.
A complaint against that was not upheld, although it was considered that readers were likely to find it distasteful.
'Industrial plague'
The Trump Organisation said: "The advertisement that appeared in print last December was submitted and approved in advance by the Committee of Advertisement Practice (the sister agency of the ASA).
"Wind energy is yet another industrial plague that will fail and be remembered as one of the largest scams in modern history."
Last September a different Trump Organisation-funded anti wind farm advert was found to have breached ASA rules.
Mr Trump is challenging the Scottish government's decision to grant planning permission for a wind farm off the Aberdeenshire coast.
Essential energy
He opposes the development because he says it will spoil the views from his Menie estate golf course.
The American businessman had previously said his 140-bedroom hotel at Menie would only proceed if plans for the wind farm did not go ahead.
The £230m wind farm development consists of 11 wind turbines and is aimed at providing enough energy for more than 49,000 homes.
Ministers believe renewable energy is essential for Scotland's economy.
The European Offshore Wind Deployment Centre (EOWDC) project is a joint venture by utility company Vattenfall, engineering firm Technip and Aberdeen Renewable Energy Group (Areg).