Appeal over 'missing' Dutch boat which left Stonehaven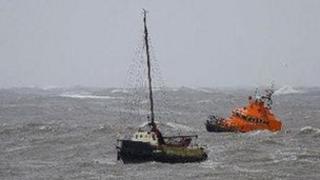 Coastguards have appealed for sightings of a Dutch boat which has not been heard from for two weeks, since it left Stonehaven.
The Warnow left the Kincardinshire port on 15 April with three crew and was due in Norway on 22 April.
Aberdeen Coastguard has now received a call about concern for their wellbeing.
The vessel is a Dutch-flagged 15m steel-hulled former pilot boat with a black hull and white cabin.
It has been converted to have a mast and sails.
The Warnow was involved in a rescue last month, when two lifeboats were called out to tow it ashore after it lost power and steering in 50mph winds off the coast of Whitby in North Yorkshire.