Orkney ferry breakdown: Serco NorthLink says it is looking for other vessel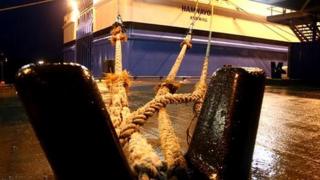 The operator of an Orkney ferry which could be out of action for a month has said it is trying to find a temporary alternative vessel for the route.
The Hamnavoe service to Scrabster has suffered engine problems and Serco NorthLink say there are no plans to bring in one of its other two ferries.
Orkney Islands Council called the situation "totally unacceptable".
But Serco said it still had four sailings to and from Orkney, including via Aberdeen.
Transport Secretary Keith Brown confirmed that within the £240m six-year contract there were penalty clauses that could be invoked.
He stressed, however, that it wanted to concentrate on finding a working alternative.
Mr Brown told BBC Radio Scotland's Good Morning Scotland programme: "We do have the ability within the contract to apply penalties if services are not run.
"To be perfectly honest what we are concentrating on just now is making sure that we have an alternative vessel in place as soon as possible and that those who want to undertake that journey can do so using the alternative.
"I am much more inclined to getting substantive repair done and making sure we have an alternative vessel. Of course we will look at those things [contract penalties] as events move forward."
Orkney Lib Dem MSP Liam McArthur told BBC Radio Scotland's Good Morning Scotland programme the situation raised serious questions about what was a "lifeline route".
He said: "What people are asking is where on earth are the contingency plans in place to deal with such an eventuality."
'Early season'
Stuart Garret, director at Serco NorthLink, said it would take time to replace the failed crankshaft and options for a temporary replacement vessel were being examined "as a matter of urgency".
Mr Garret apologised to customers but said that if people wanted to get to Orkney the firm could get them there.
He added: "There is sufficient capacity north and southbound, both on the Pentland Firth and on the Aberdeen route, with our own vessels to accommodate all demand.
"The demand even at this time of the year - and I acknowledge that it is the early part of the season - still remains fairly light.
"The commercial team have carried out a full analysis of forward bookings and we will work with our customers, those who are already booked and those who desire to travel to accommodate them either on our services or to highlight where alternatives are available."
Orkney Island Council said it had discussed the situation with Serco NorthLink Ferries and had also been in contact with the Scottish government.
The council said it did not want an extended break in service on the route.