Lamb named Lucky following Shetland rescue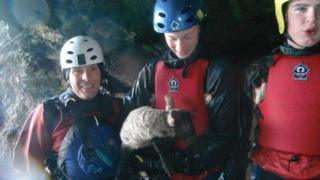 A group of school pupils from Shetland were involved in a rescue mission after stumbling upon a lost lamb in a cave.
The pupils from Anderson High School were taking part in a coasteering activity day in Nesting when they spotted the animal cowering between the rocks.
Led by their guide, the group was able to swim the animal to safety, and reunite it with its mother on the hill above on Wednesday.
The lamb has since been named Lucky.