Roundabout congestion is no joke in by-election contest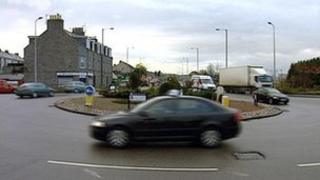 There is a joke on the campaign trail for this Thursday's Aberdeen Donside by-election.
It's that it's a contest about a roundabout. There is some truth in that.
Traffic congestion at the notorious Haudagain roundabout is a big issue.
So are potential school closures and the deal Aberdeen gets from national government.
This contest will probably be decided on these important local concerns.
But this by-election is not without national significance.
It is the first parliamentary election contest in Scotland since the 2011 Holyrood vote.
So the result will also provide a snapshot of opinion on the standing of all parties in the Scottish Parliament.
For Labour, this is a chance to show that under the leadership of Johann Lamont they can regain ground lost to the SNP.
Ms Lamont says: "I am a natural optimist.
"I think we can win but we recognise the scale of the challenge."
The Nationalists are defending a big majority of more than 7,000 votes over Labour in Donside.
They hope the popularity of the late MSP, Brian Adam, will help them retain a comfortable majority in this seat.
It would also allow them to retain an overall majority in the Scottish Parliament.
Protest vote
But they are wary of the possibility of protest against the party of government after six years in power at Holyrood.
The SNP's Kevin Stewart says: "It is unusual for governing parties to win in those circumstances."
But he claims the party is getting a "very positive response".
The Conservatives were the third placed party last time.
Any improvement would be a boost for their leader Ruth Davidson.
She says the Tories would "make sure that Aberdeen is not the forgotten city" at Holyrood.
Across Scotland, the Liberal Democrats suffered a near wipeout in 2011.
They hope Donside will demonstrate signs of a comeback.
The party leader Willie Rennie says the Lib Dems offer Aberdeen "somebody who's going to stick up for them".
The Greens co-convenor Patrick Harvie is hoping to attract support from those worried about life in Aberdeen after the oil runs out.
He says: "We need to be shifting the economy of this local area onto renewables."
All of the Holyrood parties hope to finish ahead of the UK Independence party whose leader Nigel Farage is looking for signs of a Scottish breakthrough.
The National Front, Scottish Democratic Alliance and the Scottish Christian Party are also fielding candidates.
There can only be one winner but all parties will want to see movement in their direction.
Momentum and the loss of it are important forces in politics.
In Aberdeen Donside, all sides are looking to finish with more momentum than that achieved by rush hour traffic at the Haudagain roundabout.