Man molested girl at Fraserburgh swimming pool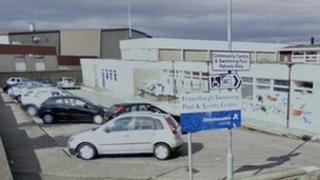 A man who filmed himself abusing a four-year-old girl in a swimming pool changing cubicle has been jailed for six years.
Roman Bardzik, 54, took a camcorder to the pool in Fraserburgh, Aberdeenshire, in February 2011.
A jury had found him guilty after watching a clip of Bardzik pretending to help the girl get changed.
He was convicted of indecently touching the girl, and of taking indecent images.
Bardzik, a Polish national who moved to Scotland nine years ago, was also found guilty of persuading the girl to perform a sex act on him at his home in Aberdeen while he was babysitting.
But he was cleared of a more serious sexual offence.
'Little insight'
Passing sentence at the High Court in Edinburgh, judge Lord Pentland told Bardzik through an interpreter: "The circumstances surrounding the offences tend to indicate there may have been an element of grooming or planning behind them.
"You have little insight into the effects of your offending on your victim.
"Instead of looking after her and protecting her you sexually abused her for the purpose, I can only infer, of your own sexual gratification."
Bardzik had left the girl humiliated and degraded but was only able to look at what had happened from his own perspective, the judge added.
The court heard Bardzik tried to blame someone else for what happened at the pool.
Defence advocate David Moggach said Bardzik left Poland when he was made redundant and had not been in any previous trouble either there or in Scotland.
He will be deported from the UK at the end of his sentence under rules which make deportation mandatory for anyone sentenced to more than 12 months in prison.
As he was led to the cells, Bardzik began to sob and gesture towards the public benches.