George Taylor given life sentence for raping 14-year-old girl in Fraserburgh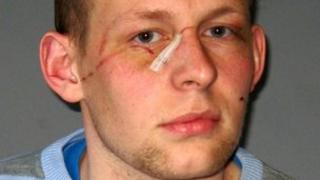 A sex offender who raped a 14-year-old girl in Aberdeenshire has been given a life sentence.
George Taylor's crime in Fraserburgh came to light after he was stabbed by a man because of the offence.
The High Court in Edinburgh heard Taylor, 27, was assessed as posing a high risk of further sexual offending.
Taylor, who admitted raping the girl in June 2011, was jailed for at least 32 months and received an Order for Lifelong Restriction (OLR).
The order means that the parole board will then decide on when Taylor can be released from prison. If he is freed, Taylor will then be monitored for the rest of his life.
He had been the subject of a court ban on contacting underage females.
Took advantage
Lady Stacey said: "You do have a very poor record and have previous convictions for sexual offences against girls under the age of 16."
The judge said in the latest offence he had taken advantage of the teenager being "very drunk" and held his hand over her mouth to stop her shouting out before raping her.
Taylor was assaulted a short time after the rape and went to Fraserburgh police station with stab injuries.
He was treated by paramedics before being taken to Aberdeen Royal Infirmary.
The court heard that it was during the inquiry into the stabbing of Taylor that the circumstances of the rape allegation came out.
Gary Martin, 32, was subsequently jailed for eight years for the attempted murder of Taylor.
Martin had told Taylor: "You know what you are. You know what you done."