Aberdeen's £5.2m Duthie Park restoration unveiled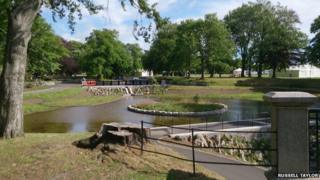 A £5.2m restoration of Aberdeen's Duthie Park has been unveiled to the public.
The aim has been to restore the Victorian park - which opened in 1883 and attracts hundreds of thousands of visitors every year - to its former glory.
Ponds and paths have been restored, and the iconic mound - with its spiral walkway and flag pole set on a granite plinth - has been transformed.
A Sunday family fun day was held.
The project secured a £2.56m grant from the Heritage Lottery Fund, matched with £2.67m from Aberdeen City Council.
Lieutenant General Sir Peter Graham, the last Colonel of the Gordon Highlanders, formally re-open the park during Sunday afternoon's event.
The council said it was an "exciting new chapter in the long history" of the park.
Colin McLean, head of the Heritage Lottery Fund in Scotland, said: "Step through the gates of Duthie Park and you are suddenly away from the noise and bustle of the town and into a tranquil green place.
"This Aberdeen treasure has always been popular and with even better facilities and beautifully restored Victorian features, thousands of people of all ages will enjoy it even more."
And Tony Dawson, chairman of the Friends of Duthie Park, added: "Sunday marks the culmination of a huge amount of work."