Theft of memorial Boddam bench criticised by police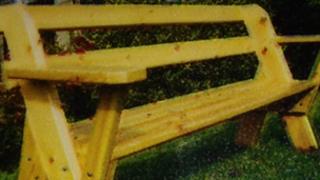 The theft of a memorial bench from Boddam in Aberdeenshire has been criticised by police.
The pine four-seat bench was gifted by a charity group called Put The Kettle On in memory of lost friends.
It was taken from the car park next to Boddam Library between 20:00 on Monday and 11:00 on Tuesday.
A police spokesperson said: "This has an effect not only on the local community, but also individuals who are aware of the sentimental value."
Residents in Boddam with any information were urged to come forward.