Boat MV Alluvion under tow after striking rock off of Bressay in Shetland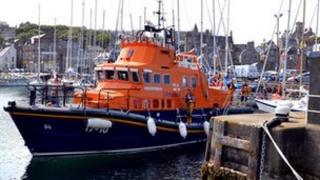 A tour boat with 12 people on board was taken under lifeboat tow after striking a rock off the island of Bressay in Shetland.
The Lerwick Lifeboat was called to the aid of the MV Alluvion.
No-one was injured, and the boats were making their way towards Lerwick harbour.
The vessel is used to take tourists around the island of Noss, which contains one of Europe's largest seabird colonies.