Piglet appeal following Aberdeen river rescue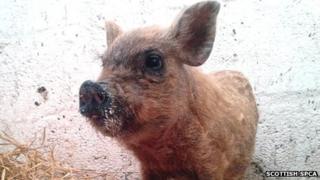 A piglet has been rescued from an Aberdeen river.
The Scottish SPCA said members of the public spotted the animal in the River Don at Laurel Drive on Friday.
The female piglet - which has been named Georgie - is now being cared for at the charity's Aberdeenshire Animal Rescue and Rehoming Centre.
Insp Fiona McKenzie said: "It's a bit of a mystery as to how she came to be there as we're not aware of any farms nearby."
She explained: "Georgie was swimming between river banks so we were able to catch her once she came ashore.
"We believe Georgie is a mangalitsa pig, which are also known as curly-haired hogs.
"Georgie has settled in well at the centre and has already become a favourite with staff.
"If no-one comes forward for Georgie, we'll be looking to find her a permanent home."