Aberdeen City Council looks at 'teacher incentive payments' to fill posts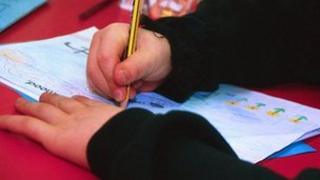 Aberdeen City Council is considering extra "incentive" payments for teachers worth thousands of pounds to tackle staffing levels.
The Urgent Business Committee will hear on Thursday that between 30 and 40 primary and secondary posts are unfilled.
The proposal is to offer successful candidates, who are new to the city, an additional payment on taking up a post.
There would be a further payment at the end of an agreed period of service.
It is estimated the initiative could cost about £260,000.
The staffing situation for primary schools, and in some subject areas in secondary schools, is described as "looking extremely challenging".
'National interest'
The report notes: "It is recommended that committee approve the use of recruitment and retention incentive payments for hard-to-fill teaching posts.
"This proposal should allow the city to attract high-quality teachers, which will ensure that a positive learning experience for pupils in the city's primary schools, and help to raise attainment."
It adds: "There is likely to be interest from the public and from other local authorities in the proposal to pay additional monies to teachers.
"As the first local authority in Scotland to be proposing such a move, it is likely that there will be national interest in this initiative."
'Unusual step'
A spokesman for the Educational Institute of Scotland (EIS) said: "Teachers' terms and conditions are agreed nationally by the Scottish Negotiating Committee for Teachers, and it is important that pay is sufficient to attract top quality graduates into the teaching profession across Scotland.
"Aberdeen City Council has identified a particular recruitment problem, and is taking an unusual - though not unprecedented - step to address the issue.
"The EIS will be monitoring the result, while continuing to believe in the importance of nationally agreed pay and conditions for teachers which reward all teachers fairly for the valuable work that they do.
"This particular situation also identifies the need for sound workforce planning processes, and for councils to identify their staffing needs early to allow appropriate time for advertising and recruitment to fill all vacant posts."