Aberdeen PMA ecstasy pills haul sparks warning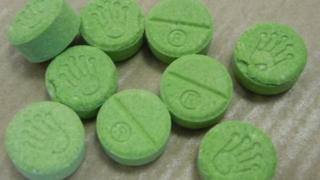 Police in Aberdeen have warned about pills circulating in the city which are similar to those blamed for the deaths of seven people in the west of Scotland.
The green tablets - bearing the Heineken logo - contain the toxic stimulant PMA.
A "large quantity" was seized in Aberdeen on Tuesday.
Seven people have died in the west of Scotland after taking similar fake ecstasy pills believed to contain PMA.
These tablets had a Rolex crown stamped on them.
'Extremely dangerous'
Ch Insp George MacDonald said the exact contents of the pills found in Aberdeen were not yet known.
He added: "What we have found is that they contain more than one class C drug as well as another dangerous substance, PMA.
"Public warnings have been issued recently in relation to the dangers of taking ecstasy, or indeed tablets being passed off as ecstasy.
"While these tablets do not feature the distinctive Rolex logo found on those in the Glasgow area they do contain the same toxic substance.
"The impact of taking a drug you do not know the exact content of can be extremely dangerous and fatal in some cases."
PMA is known to cause extremely high temperatures, hallucinations and convulsions.