Possible Hazlehead baby ash cases identified in Aberdeen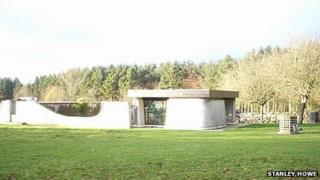 Up to 40 new cases where the ashes of cremated babies may have been disposed of without their parents' knowledge have been identified in Aberdeen.
An independent audit carried out for the city council showed there had been no cases over the past five years where ashes existed but were not returned.
But between 1984 and 1985, 40 sets of ashes had been scattered in a remembrance garden.
It was not clear whether bereaved families knew the ashes existed.
Earlier this year BBC Scotland revealed no ashes had been offered to the families of infants cremated at the city's Hazlehead crematorium over a five-year period.
The council maintained that the burners it uses are so powerful they leave no remains of infants up to 18 months old.
It said the audit of its procedures had now found them to be sound.
The council commissioned the report from PriceWaterhouseCoopers (PwC) earlier this year.
It followed an investigation by BBC Scotland in the wake of the Mortonhall crematorium scandal in Edinburgh.
The inquiry found there had been 62 cremations of children aged five or younger, including stillbirths, recorded in the crematorium ledger in 1984 and 1985.
The period was selected for review following an inquiry from a member of the public.
In 40 instances the crematorium records stated remains were dispersed in the Garden of Remembrance
In 17 instances records state remains were taken away by representatives for burial
In five instances remains were taken away by representatives for scattering
In each case the records showed ashes were created, but the report stated: "As cremation application forms are only retained for 15 years we were unable to verify whether the ashes dispersed in the Garden of Remembrance was undertaken at the request and with the full support of the bereaved family.
"We understand through discussion with council officers that cremation application forms are only retained for 15 years based on direction from the Institute of Burials and Cremation Authorities of which the council are a member."
PwC also reviewed the crematorium ledger records from 1 April 2007 until 31 December 2012, and identified 49 cremations for children aged five years or less, including still births.
It found that in all of these cases, there were either no ashes remaining after the cremation, or the ashes were returned to the funeral director in accordance with the family's wishes.
'Deepest sympathies'
The council said it would now formalise its policy - a move which could see a formal statement on the cremation procedure given to bereaved families.
The council will also give feedback to the Scottish government and the independent Infant Cremation Commission led by Lord Bonomy.
Aberdeen City Council leader, Councillor Barney Crockett, said: "I would first of all like to offer my condolences to anyone who has experienced loss of this nature.
"This is clearly a difficult period for many people and I would like to extend my deepest sympathies to any family affected by practices being reported elsewhere.
"I hope families here in the north-east will take some comfort from knowing that we have had a close look at our own procedures at Hazlehead Crematorium and found them to be sound.
"We remain fully confident that our crematorium staff at Hazlehead have carried out their duties with the utmost of professionalism and have always approached their very sensitive work in a caring and considerate manner."
But one parent whose baby was cremated at Hazelhead in the early 1990s claimed the council's response to the audit was "complete and utter nonsense".
The parent, who asked to remain anonymous, added: "To say their procedures are sound is ridiculous. For 20 years I believed there were no remains from my precious baby and I grieved on that basis.
"To now know there were remains but no-one can tell me where they are is incredibly hurtful and has caused me untold grief.
"Today's report has done nothing to ease this pain and I believe a public inquiry is the only way I will get answers."
In December, it emerged that Mortonhall Crematorium in Edinburgh had secretly buried the ashes of dead babies without the knowledge of families.
Hazlehead was later implicated, as were the Linn and Daldowie crematoria in Glasgow.
It was alleged the practices were being carried out from the 1960s until 2011.
An independent Infant Cremation Commission, led by Lord Bonomy, has been set up to look at the scandal.
Separately, an investigation into past practice in Edinburgh is being conducted by former Lord Advocate Dame Elish Angiolini - but parents have said a public inquiry is needed to get to the truth.
Dame Elish has asked for anyone who has information which they wish to provide to her investigation to come forward.
She has also requested that anyone who has inquiries about the cremation of a baby at Mortonhall should contact the investigation team at mortonhallinvestigation@edinburgh.go.uk.