Murder trial told James Munro thought about suicide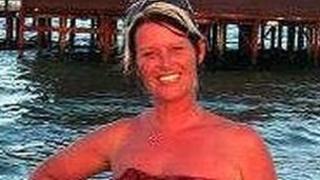 James Munro thought about killing himself after stabbing his fiancee to death, a murder trial has heard.
The 56-year-old oil worker told a jury that he loved her and could not live without her.
The body of Munro's fiancee Kim Campbell, 41, was found in a bath of blood and water in her Elgin home.
Medics found 27 knife wounds which had severed major blood vessels and slashed her skull to the bone.
The body was found after Miss Campbell's partner accused her of a holiday fling at a Tunisian water sports centre.
Munro was then found sitting in his blue BMW on a quiet country road.
Boxes of drugs, prescribed for his heart condition, were found scattered in nearby woods.
Munro told a jury at the High Court in Edinburgh that he intended to kill himself at that point and he did not know what effect the medication would have.
He claimed he did not know when he left the house that Ms Campbell had died, as they grappled for a large kitchen knife in the bathroom.
He continued: "At that time I thought if the relationship had deteriorated to the stage that Kim had attacked me, then it was over.
"I would be as well ending my life if my relationship with Kim had finished."
He told defence advocate Tony Graham: "I loved her."
Suicide plan
Questioned by advocate depute Tim Niven-Smith, prosecuting, Munro denied that his suicide plan was a sign of guilt.
The prosecutor suggested: "She was screaming and fighting for her life but you had lost it and kept stabbing until she was dead.
"Then, wracked with remorse and guilt you tried to take the easy option and kill yourself."
Munro replied that he thought Ms Campbell was only dazed because he could not see any injuries.
"It was a blood-bath," countered Mr Niven-Smith.
Munro denies a charge of murder but, giving evidence, he accepted that he had struck the fatal blows.
He said he had tried to plead guilty to a reduced charge of culpable homicide, but prosecutors had rejected his offer.
The trial has heard that Munro travels around the world testing oil rig equipment and gas pipelines.
The court heard he had to be rescued from the Libyan desert in February 2011 during the anti-Gaddafi uprising but returned to work there a year later.
Holiday snap
In October last year Ms Campbell and a friend enjoyed a seven-night break in Tunisia before Munro discovered a holiday snap of his fiancee kissing a Tunisian.
In a series of messages sent from Libya he accused Ms Campbell of infidelity and threatened she would be dead by Christmas.
Munro came home on leave and four days later and in the early hours of 8 November 2012 she was dead.
Munro claimed she attacked him when he tried to question her about other holiday photos, apparently deleted from her computer.
The trial reached its final stages today as lawyers made their closing speeches to the jury.