St Nicholas House: Court of Session throws out legal challenge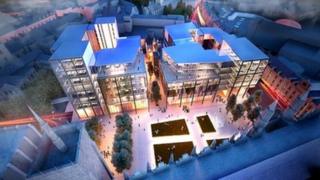 A legal challenge to plans for the re-development of former council headquarters in Aberdeen has been rejected.
The Court of Session has ruled the process used to select a preferred bidder for the St Nicholas House site was "lawful and reasonable".
The court was asked to decide after one of the unsuccessful bidders for the development of the former Aberdeen City Council offices started legal proceedings.
HFD Group had claimed the process used by the city council in selecting Muse Developments as its preferred bidder was flawed.
Ruling welcomed
The former council headquarters at St Nicholas House is being torn down to make way for a new civic square, hotel and offices.
The city council has welcomed the ruling.
HFD Group can appeal.
Muse Developments was named as the preferred bidder for the St Nicholas House work in May.
More than 1,000 council staff vacated the 14-storey building, erected in 1968, for the newly-refurbished Marischal College building in 2011.
Muse Developments plans a development comprising linked buildings, the tallest of which will be 10 storeys high.