Stolen rail cable replaced on Aberdeen to Inverness line near Huntly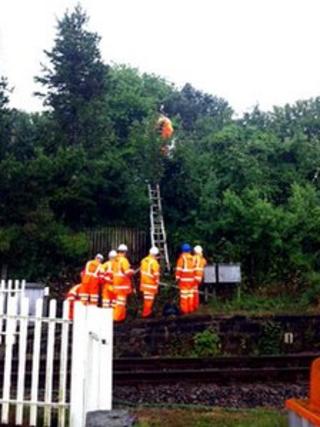 Engineers have replaced a mile of cable after it was stolen from the Aberdeen to Inverness railway line.
The theft caused the cancellation of trains between Inverurie and Huntly on Sunday and Monday.
Network Rail said its staff had now replaced and reconnected the cable, and services would run as normal on Tuesday.
British Transport Police (BTP) are investigating the theft, which happened near Huntly.
It had originally been feared that disruption to rail services on the line would continue until Wednesday.
But David Simpson of Network Rail said: "Our team was determined to replace the cable as quickly as possible to minimise the disruption to the travelling public.
"We will continue to assist the British Transport Police's enquiry and will push for the stiffest penalty possible should those responsible be identified."
'Risking their lives'
A BTP spokesman said: "There is a common assumption that cable theft is a victimless crime, with the only effects being felt by the railway industry. This is not the case.
"Theft of cable can, and does, cause significant delays and cancellations to the rail industry - as well as costing the industry millions of pounds each year.
"What thieves don't realise is that they're attempting to steal cable, sometimes live, carrying up to 25,000 volts. Not only are they risking a court appearance, they're also risking their lives."
A Scottish government spokesman said: "We are determined to tackle the increased incidence of metal theft witnessed during recent years - an issue, which as highlighted by this latest incident, can cause major problems for local communities and major inconvenience for travellers as well as a range of other serious safety and cost issues.
"That is why we launched a consultation in April this year looking at proposals for changes to the regulation of the scrap metal industry to further protect both the public interest and the interests of that industry."