Findhorn land 'radiation' fears to be probed near former RAF Kinloss base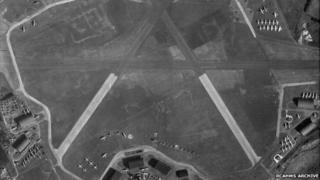 Testing is to be carried out at sand dunes near to the former RAF base at Kinloss which may be contaminated by radiation.
Moray Council has said ground investigation will be carried out at Findhorn this month.
Geophysical surveys of duneland at Findhorn have suggested the land may be contaminated by radiation.
It is believed large numbers of aircraft were broken up and buried there at the end of World War II.
Some of the parts may have been coated with radium-based paint, which was used to illuminate instruments.
Protective clothing
Staff from Moray Council's contaminated land section will work alongside the Scottish Environment Protection Agency (Sepa), using protective clothing.
The investigation is expected to last up to five days.
Kinloss was closed as an air force base in July last year as part of the UK government's ongoing programme of defence cuts.
BBC Scotland's environment correspondent David Miller had revealed in May last year that RAF Kinloss was to be the focus of a new investigation into radioactive contamination.