Aberdeen Council makes fresh call for probe into Alex Salmond school visit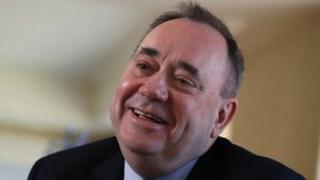 The leader of Aberdeen City Council has asked the UK's top civil servant to investigate whether First Minister Alex Salmond broke the ministerial code during a recent by-election.
Barney Crockett is particularly unhappy about Mr Salmond's visit to a school.
The visit to Bramble Brae Primary was two days before the Donside by-election, which was won by the SNP.
Mr Salmond has said the visit was at the request of parents worried about the school's future.
Mr Crockett has written to Sir Bob Kerslake, the head of the Home Civil Service, asking him to investigate whether the first minister's visit was a breach of the code.
It comes after Sir Peter Housden, the permanent secretary to the Scottish government, dismissed the council's complaints against the first minister earlier this month, after concluding there was no need for further investigation.
Mr Crockett has also asked Sir Bob to examine whether Sir Peter - who is Scotland's most senior civil servant - carried out an appropriate inquiry into the claims.
A spokesperson for the first minister said: "The council leadership should stop spending its time concocting ever more ridiculous letters, and start concentrating on its job of delivering for the people of Aberdeen."
Mr Salmond recently issued a strongly-worded reply to the allegations, saying the Labour Party in Aberdeen was in danger of bringing the council into disrepute.