No decision on Super Puma offshore flights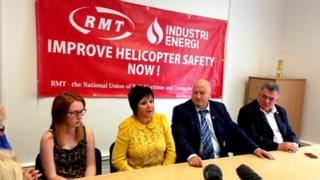 A meeting of oil industry figures has broken up without a decision on when Super Puma helicopters will be allowed to fly.
The Helicopter Safety Steery Group (HSSG) will convene again on Thursday.
All offshore flights by the Super Puma were suspended after the crash off Shetland on Friday which killed four oil workers.
Meanwhile, the RMT union has held a rally in Aberdeen to press for improved safety in the industry.
The rally was announced after a protest by the union outside helicopter operator CHC's base was called off.
RMT said it suspended the protest after reaching an agreement with oil industry employers on union access offshore.
Meanwhile, a salvage boat is expected to unload the wreckage of the Super Puma at Lerwick harbour on Wednesday night, after Friday's crash.
BBC Scotland understands the wreckage does not include the flight data recorder, which still has to be found.
Four people died when the Super Puma AS332 L2 went down close to shore on a flight to Shetland's Sumburgh Airport from the Borgsten Dolphin rig.
It is understood the pilot was seriously injured.
'Central issue'
The protest rally was held at the union's Crown Street offices.
A banner said: "Stop putting profit before lives: make UK sector as safe as Norwegian sector."
RMT general secretary Bob Crow said after Tuesday's talks with the employers that they had "secured a massive breakthrough on our core demand of workplace access which will enable us to build an organisation that can fight for real collective improvements to offshore working conditions including on the central issue of safety".
The union is also offering legal support to the families of the 2009 Super Puma disaster, in which 16 men died, ahead of next year's fatal accident inquiry.
Audrey Wood, whose son Stuart, 27, died in the 2009 crash, said: "We have been united as a group to demand answers and to stand behind the workforce to enforce greater safety measures for the oil industry and justice for the lost souls who are no longer here.
"We are grateful for the union in supporting the families."
The RMT had been concerned that the suspension of all flights by Super Puma helicopters would prevent union officials from keeping in touch with the offshore workforce.
Oil and Gas UK said it was able to offer reassurance that it would attempt to allow contact to continue.
In a statement the industry body said: "During a constructive discussion both parties expressed their support for the existing memorandum of understanding regarding trade union access to offshore installations through the inter union offshore oil committee (IUOOC) procedure which allows trade union officials to visit the offshore workforce.
"It was recognised in the current circumstances of significantly reduced helicopter capacity that offshore visits would not be feasible so the possibility of interim arrangements will be explored."
Another union representing offshore workers, Unite, has said no decision to resume Super Puma flights should be taken until the "black box" is found and analysed.
Unite Scottish Secretary Pat Rafferty said: "The Super Puma fleet must remain grounded at the very least until the black box from Friday's crash is recovered and its data reveals the cause of this catastrophe - this isn't up for debate."
He added: "This is a critical moment for the offshore industry and if these companies are serious about even starting to rebuild its shattered reputation then they will listen to, work with and protect the one resource it cannot do without - its people."