Cat owners urged to record catches and kills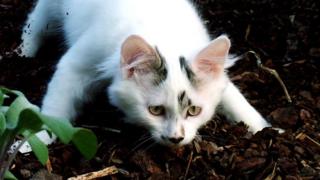 Cat owners in the north east of Scotland are being asked to record what their pets catch and bring back into their homes, to help researchers.
The information will help with the creation of a Mammal Atlas for Aberdeen, Aberdeenshire, Moray and the Cairngorms National Park.
The North East Scotland Biological Records Centre (NESBReC) is compiling the information.
It is thought a household cat can catch dozens of creatures a year.
'Useful indicator'
The researchers need to know what was caught, where it was caught, and when - and pictures can also be sent.
Isobel Davidson, chairwoman of Aberdeenshire Council's education, learning and leisure committee, said: "The Mammal Atlas is an important project for the north east of Scotland and I am glad to see NESBReC coming up with interesting and engaging ways for people to get involved.
"It might be unpleasant when the cat brings an animal into the house, but now at least it can be a useful indicator of the mammals living in your area."
NESBReC is a partnership between Aberdeenshire Council, Aberdeen City Council, Scottish Natural Heritage, the University of Aberdeen, the RSPB and Forestry Commission Scotland.