MSPs step up government FAI pressure after helicopter crash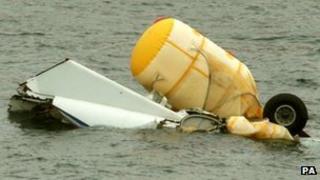 MSPs seeking an overhaul of the fatal accident inquiry system have stepped up the pressure for change on the Scottish government.
It comes less than five weeks after the Super Puma helicopter tragedy off Shetland in which four people died.
The crash was the fifth accident in four years, two of which caused deaths.
A series of MSPs spoke in the debate, led by North East Labour MSP Richard Baker.
Mr Baker said: "All of us here want to have a helicopter fleet in the North Sea which has the best possible safety standards and in which offshore workers have confidence.
"But the fact that, in addition to there being this number of incidents in the past few years, we have had such an ongoing delay into the fatal accident inquiry into the 2009 crash, has only undermined that confidence further."
All 14 passengers and two crew on board a Super Puma lost their lives after it came down in the North Sea in April 2009.
Energy Minister Fergus Ewing, speaking on behalf of the Scottish government, said: "I understand that the consultation finishes on 22 November and the Scottish government will consider the final proposals when they are available."
The Civil Aviation Authority said on Tuesday that operations would be reviewed in the wake of recent accidents. The following day, three offshore helicopter operators launched a review of safety practices.
An investigation into the CHC-operated Super Puma AS332 L2 crash off Shetland is ongoing.
Sarah Darnley, 45, of Elgin; Gary McCrossan, 59, from Inverness; Duncan Munro, 46, from Bishop Auckland; and George Allison, 57, from Winchester, lost their lives in the incident.