Roadkill information plea to drivers in north east of Scotland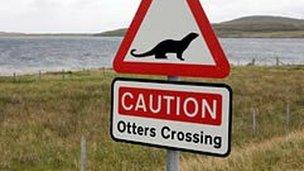 Drivers in the north east of Scotland are being asked to help researchers by recording roadkill.
The information will help with the creation of a Mammal Atlas for Aberdeen, Aberdeenshire, Moray and the Cairngorms National Park.
The North East Scotland Biological Records Centre (NESBReC) is compiling the information.
Badgers and hedgehogs are the animal most commonly run over.
For a record to be entered into the Mammal Atlas there needs to be information on the species, where it was seen, when, and who by.
Pictures can also be sent to NESBReC.
Manager Glenn Roberts, said: "By sending in records of roadkill, as well as contributing to the Mammal Atlas, people can help to identify where there may be hotspots or issues with particular species.
"This information can then be used by local councils to implement mechanisms to reduce wildlife deaths."
NESBReC is a partnership between Aberdeenshire Council, Aberdeen City Council, Scottish Natural Heritage, the University of Aberdeen, the RSPB and Forestry Commission Scotland.
Related Internet Links
The BBC is not responsible for the content of external sites.