Common Fisheries Policy 'remains fundamentally flawed' despite deal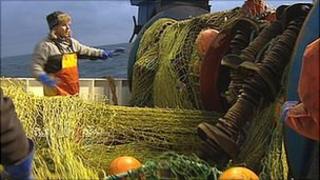 The European Common Fisheries Policy (CFP) remains "fundamentally flawed" despite an agreement on reforms, Scottish fishermen have claimed.
The UK government said the deal in the European Parliament was "historic".
Due to come into effect on 1 January, the new policy includes a gradual ban on discards - throwing away healthy fish to comply with quotas.
But the Scottish Fishermen's Federation (SFF) said there was a huge amount to do to put the reforms into practice.
The reforms also include a legally binding commitment to fishing at sustainable levels and the introduction of decentralised decision-making.
EU Fisheries Commissioner Maria Damanaki said the deal would create the conditions for an economically viable and sustainable European fishing fleet.
UK Fisheries Minister George Eustice said the deal came after more than three years of difficult negotiations.
"The long fight to reform the broken Common Fisheries Policy and end the shameful practice of perfectly good fish being thrown dead back into the sea has been won," he said.
"Today's vote signifies a new chapter for the CFP that will make fishing more sustainable, will end the centralised one-size-fits-all approach to decision-making, and will make discards a thing of the past."
The Scottish Fishermen's Federation said much of the new policy seemed like common sense, with much to celebrate.
But it added that the CFP was, in many respects, a bad law, with a huge amount of work required to put it into sensible practice.
Scottish Fisheries Secretary Richard Lochhead added: "It's far from perfect and many challenges remain.
"But this political agreement is of fundamental importance to Scotland's fishermen and is a step forward.
"The end of discarding is an important step and further regionalisation will ensure important decisions are taking closer to home."