Scottish independence: Aberdeen council leader challenges Salmond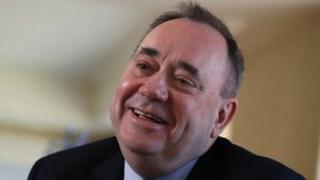 Aberdeen's council leader has challenged First Minister Alex Salmond to a debate over claims it is becoming the SNP's forgotten city.
Barney Crockett said if Mr Salmond fails to secure a debate with Prime Minister David Cameron he would be glad to step in.
Mr Cameron has resisted a TV debate on Scottish independence.
A spokesman for Mr Salmond suggested Mr Crockett sought a debate with the people of Aberdeen instead.
The Labour council leader has said the city is being forgotten by the SNP, citing the loss of public sector jobs at its prison and police and fire control rooms.
Mr Salmond's spokesman said the city is getting an extra £7m over three years as well as major investments like the sports village and Aberdeen bypass.
The Scottish cabinet meets in Portlethen on 24 February.
Downing Street has yet to confirm or deny speculation the UK cabinet will meet in Aberdeen on the same day.