Girls 'dragged through dog dirt', court hears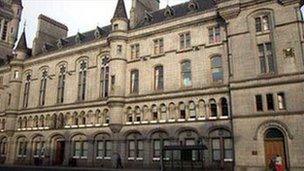 Two schoolgirls were dragged through dog excrement and snow by a man making them do outdoor exercise in wintry conditions, a court heard.
Norman McConnachie, 42, and Rachel Boyd, 39, are alleged to have wilfully assaulted and ill-treated the teenagers.
Mr McConnachie is also alleged to have sexually assaulted the girls at a property in Aberdeenshire in 2011.
The pair, from Newtonhill in Aberdeenshire, have denied all charges.
They have gone on trial facing two charges of treating the children in a manner likely to cause unnecessary suffering or injury.
One of the alleged victims, who cannot be named for legal reasons, said Mr McConnachie had driven the teenagers to grassland next to a children's activity centre.
The 17-year-old told Aberdeen Sheriff Court there was quite deep snow on the ground and the weather conditions were freezing.
She said: "We got taken out the back of the Land Rover and Norman gave us these heavy weights and we got told to lift them above our heads and run around the grass.
"And every time we would stop or go slow he would drag us by the scruff of our neck, put our heads in dog poos and make us do sit-ups.
"The more we cried the more it got worse."
The court heard that when she told Mr McConnachie she did not want to do it he said: "You need to do it because you need to get punished."
She said the girls were shouted at and carried out exercises for between 20 and 30 minutes and said she lost count of how many sit-ups and press-ups they had to do because they did so many.
She told the court she was scared of Mr McConnachie, who appeared to be angry, and said she had been wearing her school uniform and a cardigan.
The teenager said Ms Boyd, who faces the same assault charges, was not there at the time.
The assaults are alleged to have happened at an outdoor activity centre and in a coastal bay between 1 January 2006 and 30 June 2012.
The girl said that on another occasion Mr McConnachie had groped her when rubbing cream on her body after she hurt her shoulder.
She said he explained that the pain would develop further down so put the cream on her breasts.
She told the court: "I just felt really uncomfortable and awkward about doing anything.
"He was proper groping my boobs and feeling them."
The schoolgirl said she felt that he was "being quite creepy" when he touched her breasts, adding: "He was just being a pervert to me basically."
Mr McConnachie is further claimed to have sexually assaulted both girls by kissing them and putting his tongue in their mouths.
Related Internet Links
The BBC is not responsible for the content of external sites.