Peterhead carbon capture project secures design funding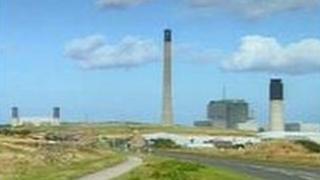 Multi-million pound funding to help with design costs for a planned carbon capture and storage plant at Peterhead has been unveiled by the UK government.
Shell and Scottish and Southern Energy (SSE) are behind the scheme to transform the town's power station.
It is one of two preferred bidders in a £1bn competition to encourage the development of carbon capture and storage (CCS) technology.
The funding was announced by UK Energy Secretary Ed Davey.
The Peterhead scheme would see greenhouse gas emissions captured and transported to the Shell-operated Goldeneye gas field.
It is sharing the £100m of funding with the White Rose project at the coal-fired Drax power station in North Yorkshire.
The UK government investment will enable the proposals for both power plants to be developed, with a final decision expected late next year.
Mr Davey said: "We are investing around £100m from our £1bn budget to take the Peterhead and White Rose CCS projects to the next stage of development - which together could support over 2,000 jobs during construction and provide clean electricity for over one million homes.
"In late 2015, the projects will take final investment decisions, with the government taking decisions shortly after."
Mr Davey said the Peterhead initiative "envisions a cleaner, greener future for the North Sea and will support thousands of green jobs".
Shell UK chairman Ed Daniels said the agreement was a "hugely important step" towards delivering a project with the potential to make gas "even cleaner".
"CCS could be critical to reducing carbon emissions at a time of growing global demand for energy," he said.
"The successful demonstration of the technology at Peterhead would be a step towards proving its commercial viability as a tool for mitigating climate change.
"It could also help diversify the North Sea oil and gas industry - and so contribute to the sector's long-term commercial health."
Scottish Energy Minister Fergus Ewing welcomed the announcement.
"We have been robust advocates of CCS for over a decade now, recognising the strong comparative advantages that Scotland has in academic expertise, industrial know-how and the unrivalled storage capacity in the North Sea," he said.
'Good progress'
WWF Scotland director Lang Banks said: "Demonstrating carbon capture on this existing gas power station would enable us to test the technology and cut emissions from our energy sector whilst we transition to a renewable future.
"Scotland is rich in renewable sources of energy and going forward could have a secure electricity supply without any need for fossil fuel power.
"However, as we transition to a 100% renewable future, Scotland is also well placed to develop and test CCS - a potentially important global technology.
"It's great to hear that we might be about to start turning this opportunity into a reality."
Jim Gifford, leader of Aberdeenshire Council, said: "Peterhead is the perfect location for this ambitious and innovative project.
"Carbon Capture and Storage in Peterhead will demonstrate world-class engineering, diversify and sustain the North Sea industry and skills, support local jobs and the economy, and help Scotland and the UK to meet targets to reduce carbon emissions by at least 80% by 2050.
"This is one of two projects that are being considered by the Government and I am pleased to see the good progress being made on securing Peterhead as the successful bidder for this project."
Grangemouth and the Teesside Low Carbon Project had submitted unsuccessful bids in the carbon capture contest.