Jobs lost at Hamilton School after liquidators appointed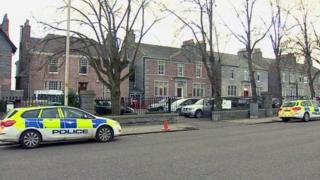 A private school closed by inspectors due to concerns over care has appointed liquidators, with the loss of 78 jobs.
The Hamilton School in Aberdeen was shut on Friday after inspectors said they were not confident pupils were "safe and well cared for".
The Scottish government intervened after complaints from parents and staff prompted a police investigation.
Following the closure school directors decided to stop operating the associated nursery.
Inspectors said they had identified 14 areas of concern at the nursery, including feeding and medication.
Blair Nimmo and Geoffrey Jacobs, of KPMG, who have been appointed joint liquidators, said that 78 of 84 staff members had been made redundant, with the remaining six retained to help transfer pupil information to new schools.
'Distressing events'
Mr Nimmo said: "The recent events will be very distressing for many pupils, parents, teaching and all other staff past and present. We will do whatever we can as quickly as possible to assist pupils, parents and staff during this difficult time.
"I am pleased to note that the directors have indicated a strong desire to assist as much as required to help minimise disruption for all parties involved."
Asked about school fees, he said: "It's very early days, we do not have a full picture. We appreciate there's a concern."
The Hamilton School had 105 pupils and the nursery cared for 225 children.
Braeside Primary, a disused school, was re-opened on Monday to accommodate some pupils.
Two women aged 65 and 25 have been charged following police inquiries into the Hamilton School.