First Minister Alex Salmond 'could be banned' from Aberdeen council-run buildings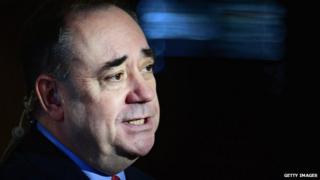 First Minister Alex Salmond and his Scottish ministerial team could be banned from all council-run buildings in Aberdeen.
The city council will debate a motion on Wednesday from its Labour-led administration, calling for the move.
It follows a series of disagreements between the council and Mr Salmond in recent years.
The SNP said the motion was an "act of madness by an out of control administration".
It would see ministers prevented from visiting council offices, schools, parks, libraries and community centres.
'Increasingly bizarre'
Labour said Mr Salmond and his ministers needed to work with local government rather than using "bullying tactics".
But a spokesman for Local Government Minister Derek Mackay responded: "The Scottish government has good relations with all of Scotland's other 31 councils - despite those councils being of many different political colours.
"In that context it is the increasingly bizarre comments from the Labour-Tory alliance at Aberdeen City Council which stand out."
He added: "Unlike the city council the SNP in government are delivering for Aberdeen. We have delivered a world-class sports village, a state-of-the-art dental school, multi million pound community health facilities at Foresterhill - and the on-going construction of the £650m Aberdeen Western Peripheral Route which will benefit the north-east economy to tune of around £6bn".
By-election wrangle
Last month, Aberdeen's council leader Barney Crockett challenged Mr Salmond to a debate over claims it was becoming the SNP's forgotten city.
A spokesman for Mr Salmond suggested that Mr Crockett should seek a debate with the people of Aberdeen instead.
And, last year, Labour was unhappy about Mr Salmond's visit to a school during a by-election campaign.
The visit to Bramble Brae Primary was two days before the Donside by-election, which was won by the SNP.
Mr Salmond said the visit was at the request of parents worried about the school's future.