Orkney gun 'not linked' to Shamsuddin Mahmood murder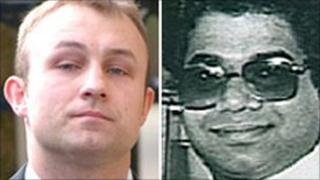 A handgun found in Orkney has no connection to the 1994 murder of Indian waiter Shamsuddin Mahmood, police say.
Former Black Watch sniper Michael Ross was sentenced to a minimum of 25 years after being found guilty in 2008 of murdering Mr Mahmood.
Ross was aged 15 when he shot Mr Mahmood in the head. The murder weapon has never been found.
Police have now said a gun found in Kirkwall last July was not connected to the killing.
The gun had been discovered in the garden of a property which had once been owned by former police sergeant John Miller.
Mr Miller, who died in 2006, had been a friend of another police officer, Eddie Ross, who is the father of Michael Ross.
Mr Mahmood was shot in full view of a room full of diners, including families with children, by a masked gunman in Kirkwall's Mumutaz restaurant.