Advocate Mark Strachan jailed for Scottish Legal Aid Board fraud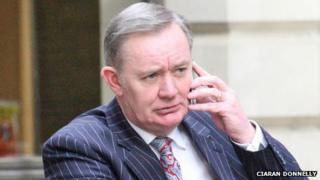 An advocate has been jailed for two years after being found guilty of fraud and attempted fraud totalling almost £50,000.
Mark Strachan, 55, submitted numerous false travel claims for expenses to the Scottish Legal Aid Board (Slab) over several years.
Slab said Strachan deliberately tried to defraud the taxpayer.
He was found guilty of defrauding Slab of £11,663 and attempting to defraud it of another £37,882.
Confiscation proceedings
Strachan, who had homes in Aberdeenshire, West Lothian and Edinburgh, had denied falsely claiming travel allowances and mileage fees on numerous occasions between March 2006 and November 2010.
Edinburgh Sheriff Court heard that, when Strachan was in Aberdeen on business, he would sometimes see a number of people on the same day.
He then charged the board the full fee of £100 travel allowance and £108.80 mileage for a 272-mile return journey to the central belt, at 40p a mile, for each person he saw.
He was entitled to claim only one travel and mileage allowance.
The Crown has now initiated confiscation proceedings.