Aberdeen council chief executive Valerie Watts leaves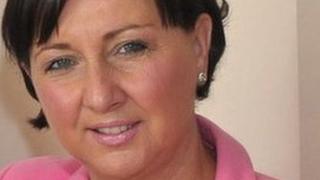 The chief executive of Aberdeen City Council is to leave her post for a new job in Northern Ireland.
Valerie Watts is to become chief executive of Health and Social Care Northern Ireland.
In a letter to council staff, Ms Watts said it had been "a tremendously difficult decision that took me some time to make".
Ms Watts said she had enjoyed her three years in Aberdeen and would remain in post for the next three months.
SNP group leader Callum McCaig said Ms Watts would have been embarrassed by recent high-profile council issues, such as talk of banning Scottish Ministers from council buildings, and sending out letters endorsing a "No" vote in September's independence referendum.
However the council leader, Labour's Barney Crockett, described that claim as "ludicrous".