Panel to recruit Aberdeen City Council chief executive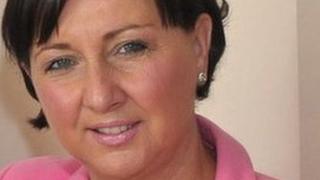 A panel has been set up to begin the process of recruiting Aberdeen City Council's new chief executive.
It was announced on Monday that the current chief executive, Valerie Watts, is to head up Health and Social Care Northern Ireland.
Labour and the SNP have each selected three councillors for the role, with the other parties sharing the remaining four places.
The panel will agree a job description, salary and timeline.
The SNP has claimed that dysfunctional behaviour of the Labour-led administration played a part in her decision, but this has been rejected by the council leader.
In a letter to council staff, Ms Watts said it had been "a tremendously difficult decision that took me some time to make".
Ms Watts said she had enjoyed her three years in Aberdeen and would remain in post for the next three months.