Scottish seas cleaning scheme faces fight for funds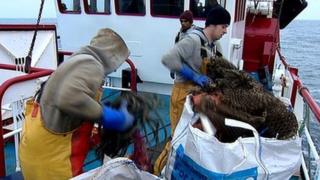 The future of a scheme which has removed more than 700 tonnes of litter from the seas around Scotland has been thrown into doubt.
Fishermen have been bringing back to shore any rubbish caught in their nets for a decade.
Environmental groups welcomed what the fishermen have been doing.
However, the Fishing for Litter project's co-ordinators are looking for funding to allow it continue.
After another routine trip into the North Sea, the Peterhead trawler Amity returns to its home port at 06:00 on a Wednesday morning.
It is the end of a 12-day voyage for skipper Jimmy Buchan, who has caught 170 boxes of prawns - and two great big bags of marine litter.
He said: "Sometimes it's plastic chairs, old buoys; and common ones are plastic bottles.
"Definitely year on year we're seeing less and less litter.
"When we started it was quite common to fill two, three or four bags in one trip.
"Sometimes now on a trip, going back to a regular area, we'd be lucky if we get a quarter of a bag so we're obviously doing some good."
Tied to the side of the trawler are two white bags, similar to ones which hold sand on building sites.
Inside there are bits of tree, paint pots, floats and some fishing gear.
In Scotland alone, the scheme has netted about 470 skips worth of rubbish destined for landfill.
The fishermen accept that is not ideal, but argue it does less damage than it does at sea.
Fishing for Litter co-ordinator Tom Piper, said: "There's a scientist in the Netherlands who looks at the contents of guts of the fulmar, a bird which only feeds at sea, and something like 85% of animals have plastic debris in their guts.
"It can't be good for an animal, it wouldn't be good for you and I if we had plastic in our stomachs."
'Really is shameful'
WWF Scotland chief executive Lang Banks believes there is another issue that needs tackling by everybody - educating people into not dumping rubbish in the sea in the first place.
He said: "It really is shameful that waste of this amount is being dumped in the sea at all.
"If we're serious about our environment this is an opportunity to end the dumping of waste in our seas and protect it well into the future."
The third phase of the litter project has now come to an end and there are still decisions being made about its future.
But as one of 200 skippers who take part, Jimmy Buchan believes it is important the scheme continues.
He concluded: "I always see the sea as my back garden and you wouldn't let your back garden get into a mess like that."