Man dies after taxi enters water at Peterhead harbour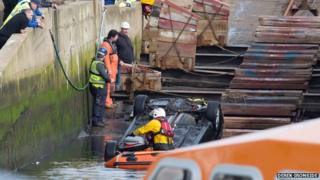 A man has died after the taxi he was driving entered the water at Peterhead harbour.
The Hyundai Sonata overturned after it landed in the water at about 8:50, close to the harbour's ice factory.
It has now been removed from the water and winched onto a slipway by a Peterhead lifeboat.
The nearby junction of Ellis Street to Longate and Seagate while an investigation is carried out into the circumstances.
Passing motorist Gavin Sutherland was treated for the effects of the cold by the Scottish Ambulance Service after jumping into the water to try and help the driver.
He said: "Once I got in the water I swam across to where I thought the car had submerged.
"I put my head under the water a few times but I couldn't really see anything. I couldn't get down far enough to help."
Police said the driver's next of kin had been informed, but that no further details would be released until formal identification had take place.