CNR North Sea oil platform Tiffany shut down after second fire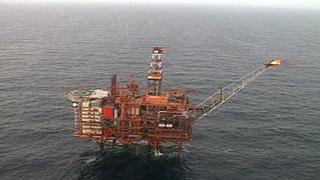 A North Sea oil platform at the centre of an investigation has been shut down after a second fire.
The Health and Safety Executive (HSE) issued two improvement notices to CNR International after an incident aboard the Tiffany platform, 155 miles (249km) north east of Aberdeen on 17 January.
Sprinklers had to be set off manually when a blaze broke out following an oil leak.
There was a second fire on Sunday, and production was shut down.
A spokesman for CNR said there was a "small, localised fire" on the production deck.
All 121 personnel on board were safely accounted for.
The spokesman said: "With the investigation ongoing, the company cannot comment on specific details of the incident.
"Production will remain shut down until all appropriate and necessary assurance activities have been completed."