Aberdeen 'top place in UK' for spare cash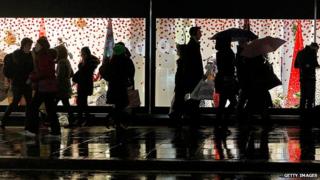 Aberdeen has seen the largest increase in disposable income in the UK since the credit crunch, according to a study of economic figures.
The analysis suggests households in the city are now better off by 19%, £2,285, compared with before the recession.
Brighton, Belfast and Blackpool also ranked well, with London seventh.
Accountancy group UHY Hacker Young looked at the growth in average disposable income for the UK's biggest 40 towns and cities.
The level of money a household has left to spend or save, after taxes and mortgages or rents, was examined over a five year period between January 2007 and January 2012.
Aberdeen's households were now estimated to be on average £2,285 better off than before the recession, following the 19% rise, from £15,143 to £17,986.
The average UK household disposable income for the 40 towns and cities was said to have risen by £1,761 over the same period, to £14,068.
The accountancy firm said this increase had largely been driven by reductions in mortgage costs, as a result of the Bank of England's interest rate policy.
Colin Wright, partner at UHY Hacker Young, said: "Households in Aberdeen have benefitted from both the collapse in the UK's mortgage costs and, uniquely, from the oil boom.
"As one of the few global centres of the oil and gas industry Aberdeen has boomed in recent years.
"It can be hard to imagine but Aberdeen is now part of that small group of international oil cities that have had a relatively good recession like Houston, Bahrain and Almaty."
Mr Wright said that as real wages had stagnated few people felt better off, but that the historically low interest rates had bailed out the finances of many households.