New gear shafts 'will improve' North Sea helicopter safety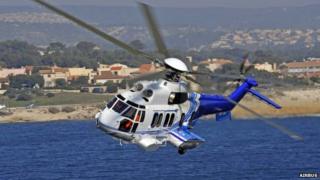 All Airbus EC225 Super Puma helicopters are to be fitted with a redesigned gearbox in a bid to improve safety.
The firm claims the new equipment will eliminate all factors which led to two helicopters ditching in the North Sea in 2012.
It said the new equipment was developed after tests showed the previous gearbox was vulnerable to vertical shaft ruptures.
The new gear shaft has been certified by the European Aviation Safety Agency.
In May 2012, all 14 people on board a Super Puma were rescued when the helicopter came down off the coast of Aberdeen during a flight to an oil rig.
Five months later, all 19 people were rescued safely after another Super Puma put down in the sea off Shetland.