Court hearing over travelling people in Aberdeen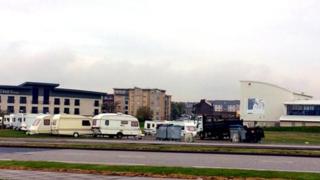 A court will be asked to grant an eviction order to move on travelling people who have set an encampment at Aberdeen's beach front area.
The group of caravans are parked up between the Queens Links Leisure Park and Transition Extreme, a social enterprise.
A court hearing - requested by the city council - is scheduled for Friday 2 May.
The authority has received complaints from local businesses.
Several of the travellers told BBC Scotland they were considering moving on this week.