Compensation for Aberdeen Saltire theft man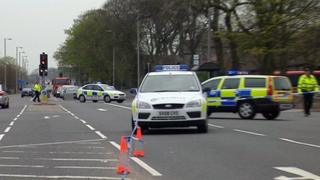 A man who stole a Saltire flag from a Scottish National Party campaign car before being hit by a bus in Aberdeen has won compensation.
Kyle Smith approached the car in 2010 and asked for a flag when it stopped at traffic lights on Lang Stracht.
As the lights turned to green he grabbed another, but as he made off he was struck by a bus and spent several weeks in hospital.
Mr Smith was awarded a reduced sum of £3,750.
This was due to his own role in the collision, involving a Stagecoach bus.
He had been drinking before the incident, which happened outside the Lidl supermarket.
'Inherently dangerous'
At the Court of Session in Edinburgh, Lord Boyd of Duncansby said the bus driver had little opportunity to avoid the collision.
But he said the driver ought to have brought his vehicle to a stop rather than trying to get past Mr Smith.
The judge said: "Had he done so, as he accepted, the accident would not have occurred."
He said: "There is a heavy onus on drivers to look out for pedestrians on the road even when they are behaving with a disregard for their own safety."
Lord Boyd said: "In my opinion the pursuer (Mr Smith) must bear the heaviest responsibility for what happened. He paid no heed to his own safety. He crossed the road away from pedestrian crossings.
"He approached the car in the outside lane when it was stopped at lights. That was inherently dangerous. He stole the flag from the vehicle. He turned quickly without looking and walked a few steps into the path of the bus.
"I am satisfied that by far the greatest blame for the accident lies with the pursuer."