River Dee salmon catch down 'due to mild winter'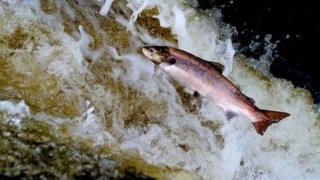 Catches on an Aberdeenshire river are significantly down because of the mild winter, fisheries managers have said.
Ghillies on the River Dee have said the amount of salmon inhabiting the water is worryingly low.
Official returns will not be collated until the end of the month. It is understood the problem is being replicated on other rivers.
Mark Bilsby, of the Dee Salmon Fishery Board, said it was a poor start to the season but he hoped it would improve.
He said: "What we are hoping is that as more fish start to come back we will see the fishery start to pick up.
"The fishery is in good health, we are just seeing a disappointing start to the season so far."
The industry has said it supports about 500 jobs on Deeside.