Baby ashes: Aberdeen City Council changes child cremation process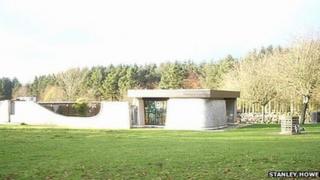 Aberdeen City Council has revealed it has changed its processes for the cremation of children.
The council said that, since last November, ashes have been recovered in all cases and returned to the parents.
It follows a report earlier this week into Mortonhall crematorium in Edinburgh. Staff there had been burying babies' ashes in secret for decades.
A report by Lord Bonomy into infant cremation practices across Scotland is due at the end of the month.
BBC Scotland revealed last year that no ashes had been offered to the families of infants cremated at Hazlehead Crematorium over a five-year period.
Aberdeen City Council said it was awaiting the outcome of the Bonomy inquiry, but had already made the changes to its procedures at Hazlehead.
A statement said: "Following initial discussion with Lord Bonomy, chair of the infant cremation commission, Aberdeen City Council visited a crematorium that has a high success rate in recovering ashes following the cremation of infants.
"As a result of this we adopted a different process in November last year and have managed to recover ashes in all cases. All recovered ash was returned to the family or scattered as per their request.
"Families choosing to have their child cremated at Hazlehead Crematorium have, as always, been kept fully informed of the cremation process and crematorium staff continue to provide caring arrangements to help ease the distress being experienced."
It added: "We are reviewing Dame Elish Angiolini's report into practices in Edinburgh and elsewhere in the UK and will continue to work closely with Lord Bonomy as we await the publication of the findings of his commission and any subsequent recommendations from the Scottish government."
'Denials and evasion'
Patrick McGuire, a partner with Thompsons Solicitors, who represents families whose babies were cremated at Hazlehead, welcomed the Aberdeen City Council announcement.
He added: "The families who I represent have consistently been met with denials and evasion from Aberdeen City over the fate of their children's remains.
"Our hope is that this statement signals the beginning of a more compassionate and open position by the council towards bereaved parents. It's not before time".
The city council in Aberdeen has always maintained that the powerful burners in place at Hazlehead left no ashes.
In her report into Mortonhall, former Lord Advocate Dame Elish Angiolini said any crematorium that cannot guarantee to return ashes to bereaved families should stop cremating babies.