Walkers take part in 'slow marathon' in Aberdeenshire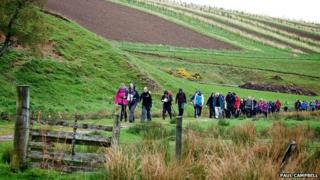 A 'slow marathon' involving about 100 walkers has been held in Aberdeenshire.
The project was instigated in 2012 by Ethiopian artist Mihret Kebede who wanted to walk from her home in Ethiopia to Huntly.
It was not possible so she found 225 people who jointly walked the thousands of miles from Addis Ababa.
Huntly-based Deveron Arts staged its third slow marathon at the weekend from Glenkindie to Huntly.
It took participants between approximately eight and 12 hours to complete the walk.