'Sustainable Surfer' bids to clean up Scotland's beaches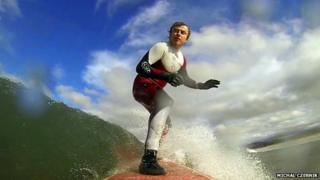 A "Sustainable Surfer" will spend the summer touring Scotland's beaches in a bid to cut litter pollution.
Michal Czernik, 32, is preparing an eight week solo tour around Scotland cleaning 30 beaches.
He will arrange beach party clean-ups along the way to help show people how they can help keep the beaches litter free.
The information gathered on the tour will be given to conservation groups to be used in future campaigns.
Michal, originally a Czech resident, said he fell in love with the Scottish scenery after moving to Scotland nine years ago. After becoming involved in a number of larger beach clean-ups he decided to give up his job as a software developer to try to do something to preserve the natural environment.
He said: "The plan was to go around the coast discovering the beaches and remote places, I was always quite cautious about the environment so I thought why not connect the fun with doing something for the environment?"
Information gathered on each beach will be supplied to conservation organisations which they can use to help plan future projects. Along the way Michal will also be working with local councils to help ensure that the rubbish he finds is properly disposed off and recycled.
The tour will last for eight weeks and will start off in Aberdeenshire's Lunan Bay on 1 June. Michael will then travel to the Orkneys and Thurso before spending the final weeks of the tour in North Uist and the Isle of Skye.
As well as cleaning up the beaches he visits, Michal hopes to get two days of surfing on each of the beaches that he visits.
A major part of the tour will be recording the state of the beaches. Footage from each of the clean-ups will be used to create a documentary which he hopes to show at film festivals around the world to highlight the beaches' fragile eco-systems.
Raising awareness
Michal's efforts to help clean up Scotland's beaches have been backed by the Marine Conservation Society, who have offered to help the tour by supplying him with clean-up items along the way.
The organisation's programme manager, Calum Duncan, said although Scotland's beaches were improving there was still large amounts of work to be done.
He said: "Data from last year showed that there was less rubbish than the UK average on Scotland's beaches, but that still equated to 1,963 pieces of litter per kilometre, or two pieces of litter per metre of beach."
A key part of the initiative is recruiting volunteers to help the clean-ups. Throughout the duration of Michal's tour he will be using social media so people can track his progress. An online donation page has been set-up to allow sponsors to help contribute to the project.
Aside from willing volunteers, Michal's only companion on his tour will be Bethy, a long-wheelbase Ford Transit. The specially-modified van will be used to store rubbish from some of the more remote beaches on the tour until they can be properly recycled.
"We've had some great adventures together, but nothing as ambitious as this, I think she's looking forward to this adventure more than I am", he joked.