March planned over Shetland school proposals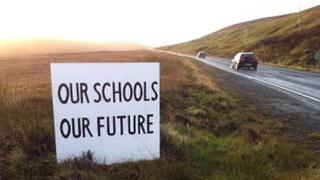 Campaigners trying to save rural schools across Shetland are planning a march through Lerwick next month.
The campaign group Communities United for Rural Education (Cure) wants pupils to stay at the network of five junior high schools until the age of 16.
Education officers are recommending ending secondary three and four classes at the junior highs.
Pupils would transfer to Shetland's main secondary school in Lerwick. The march is on Saturday 7 June.