Dangerous driving PC John Kearney given absolute discharge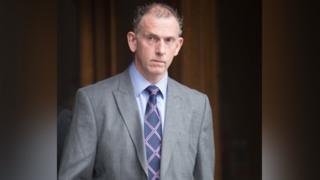 A firearms officer who admitted driving dangerously while responding to a 999 call involving a man with a gun has been given an absolute discharge.
PC John Kearney drove on the opposite side of a city dual carriageway during rush-hour traffic while on his way to a domestic incident in Macduff.
CCTV from the Land Rover Discovery also showed he went through red lights.
Sheriff Annella Cowan said she recognised Mr Kearney's guilty plea but gave him an absolute discharge.
PC Kearney was said to have caused other motorists to swerve out of the way to avoid a collision with the Land Rover Discovery on 12 February last year.
The officer decided to cross the central reservation of the North Anderson Drive dual carriageway when he got stuck in heavy rush-hour traffic.
He had been one his way to deal with the case of a man in possession of a handgun threatening another male 46 miles away in Macduff.
Special reasons
He admitted driving dangerously when he appeared at Aberdeen Sheriff Court earlier this year but a special reasons hearing was held due to the circumstances.
Giving evidence in court, he explained that he had to treat the incident as a serious firearms threat and felt it was imperative he made good progress up the road.
He told the court that in the worst case scenario he could have been dealing with a situation as serious as the Raoul Moat or Dunblane shootings.
Mr Kearney explained that he had made decisions based on "dynamic risk assessments" on what other drivers were doing in front of him.
He stressed that he had carried out the manoeuvres that he had in the armour plated 4X4 because he had a good view of the road.
Former head of police driving, Sgt Christopher Kerr, told the court he had considered some of the constable's driving to be dangerous.
And he claimed that parts had deviated from the police driver training course that he had taught the officer several years ago.
In her final submissions, depute fiscal Sally McCauley said Mr Kearney's driving had fallen far below the standard Sgt Kerr would expect from a police officer.
She said: "I would submit that notwithstanding the nature of the call, road users were exposed to unnecessary risks by Mr Kearney by his driving."
Certain exemptions
The court heard that PC Kearney's car was travelling against oncoming traffic on North Anderson Drive at 60mph as he reached the bottom of the hill.
He also overtook cars on country roads at sections where there were solid white lines.
The court heard that there were certain exemptions for police officers and that these actions were allowed.
Guidance is given to police drivers that they must only carry out such manoeuvres if it is safe to do so.
Defence lawyer Callum Anderson said his client would not have been driving the same way if he had not been responding to an emergency call.
Sheriff Annella Cowan said the appropriate disposal was to recognise Mr Kearney's guilty plea but to discharge him absolutely with no endorsements.
The court earlier heard that the officer had been taken off firearms duties and was no longer driving to emergency calls.
A Police Scotland spokeswoman said: "A report on the full circumstances will now be prepared by the professional standards department for the consideration of the designated deputy chief constable."